CFO, John Meloun, received "CFO of the Year" in Orange County Business Journal's annual awards event. Always humble, John shared what the last few years have been like in his role, how his career shaped his success at Xponential, and what's in store for the future!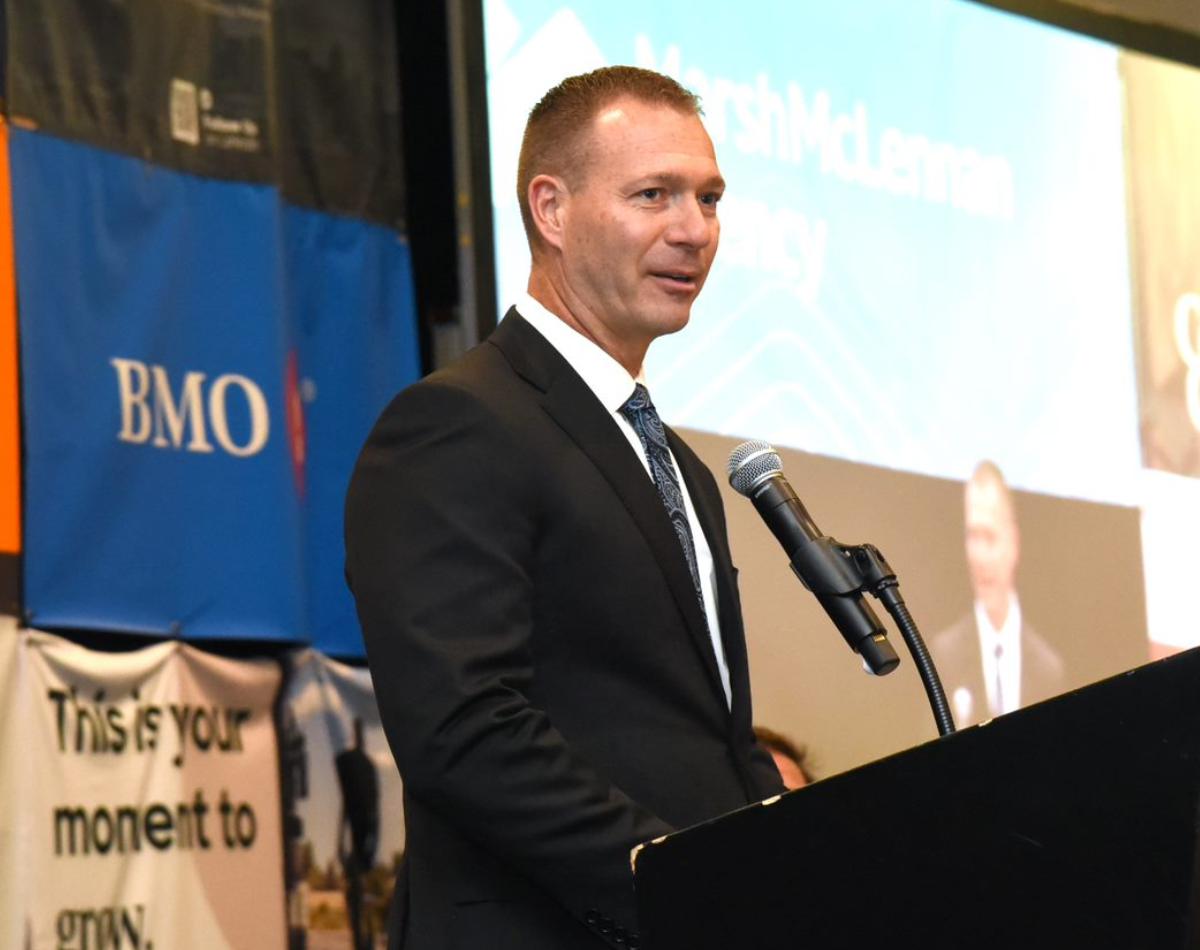 Xponential Fitness Inc. (NYSE: XPOF) Chief Financial Officer John Meloun says he always saw himself as a team player supporting the CFO, never as one.

But when the opportunity to take on that role presented itself while working at Scottsdale, Ariz.-based The Joint Corp. (Nasdaq: JYNT), a network of chiropractic facilities with now over 700 locations, he stepped up to the challenge.

After helping drive the chiropractic clinic franchiser's shares up 350% from record lows, Meloun in 2018 joined Irvine-based Xponential, an upstart franchiser of boutique fitness studios with an aggressive growth strategy.

Since joining a year after Xponential's founding, he guided the company through multiple acquisitions, refinancing transactions, a convertible preferred stock offering and an initial public offering in 2021—much of which took place during the height of the pandemic.

Meloun's work was recognized by the Business Journal during the annual CFO of the Year Awards on May 5, in which he honored as the Outstanding CFO of a Public Company.

Meloun's work hasn't stopped in 2022. Xponential had a successful secondary offering in April for existing investors; the company's currently valued at around $800 million, and operates over 2,100 studios globally.

Finance Career

Meloun grew up in Chicago. He moved to Arizona in high school after his parents vacationed there and "fell in love" with the state.

He graduated with a bachelor's in finance from Arizona State University in 1998 and, after a few months, joined Chicago-based Motorola Solutions Inc. (NYSE: MSI) as a financial analyst. Four years later, he returned to ASU to earn his MBA, working for Motorola in the day and attending classes at night.

That was "back when companies used to pay for your master's degree," he said.

He joined The Joint in 2015, which was newly public, as the director of financial planning and reporting.

When he became the interim CFO a year later, he realized he wanted to assume the position permanently because "I wanted something more for my career."

Change of Heart

Meloun's work at The Joint caught the eye of Xponential Chairman Mark Grabowksi. At the time, Xponential was looking for a CFO with experience in franchising.

At first, Meloun turned down the company's job offer due to his reluctance to move his family from Arizona to California.

But three months later, after receiving more pleas from company officials, Meloun met with Xponential Chief Executive Anthony Geisler, whose passion for the company swiftly changed his mind.

"There's something about Anthony. He's the kind of CEO that when you meet him, he has so much energy and you can see his vision when he explains things. I [then] realized this is a unique opportunity and I need to get behind him," Meloun said.

After meeting Geisler, he also realized that even as a CFO, he could still be playing his preferred role of supporting team player, "but this time for the CEO."

Meloun didn't move out to California when he joined Xponential. He flies out to California every Monday and flies back to Arizona at the end of the week.

"It was an absolute highlight to see John accept his award," Geisler told the Business Journal last week.

"Always remaining very humble, he has been a very important part of our leadership team at Xponential as we continue to grow, following our milestone year in 2021. He has been a true partner to me to consistently propel Xponential forward and this prestigious award is a great accomplishment that acknowledges his dedication and expertise as CFO."

COVID Closures

For Meloun, becoming Xponential's CFO presented an opportunity to "do what I did at The Joint," but this time, "take a much younger company, grow it and take it public."

But before he could even begin the IPO process, he and his team had to overcome several obstacles thrown their way after the onset of the pandemic.

In 2020, the company's franchises had to close 1,500 studios overnight.

To reduce corporate costs, Meloun helped franchises renegotiate rent with landlords, and cut marketing expenses.

To generate income, the company offered its digital platform, XPLUS, to franchises. That allowed their members to maintain their monthly subscriptions since, even though they couldn't go to a studio, they could still work out with the digital offering.

Because Xponential franchises remained profitable, "that allowed us to make money through royalties and keep all our employees working to support the team," he said.

Meloun said the company also used PPP loans, assisted franchises in renegotiating their rent and provided other resources to help them persist through the pandemic.

"We actually came out stronger from COVID than when we went in," Meloun said.

"By the time [lockdown] ended, we had opened over 300 new studios."

IPO, M&A

In preparation for the company's IPO, Meloun said the Xponential team met with Dell Technologies Inc. (NYSE: DELL) founder Michael Dell and worked a deal to refinance the company's debt. Dell's family trust, MSD Capital in late 2020 took a significant stake in the company via the purchase of $200 million of convertible preferred stock.

"We thought it would have been good to go public with a really strong lender," Meloun said.

Six months later in July 2021, Xponential went public. It had acquired Rumble, the company's ninth brand, and placed convertible preferred shares with Connecticut-based private equity company L Catterton, which came on as part of Xponential's Pure Barre acquisition just a few months before, Meloun said.

"There were many long nights, Uber Eats and bottles of wine we had to crack open to get us through [the IPO] but it's the sense of accomplishment that I think really drove my team. I'm extremely grateful for all the hard work and energy that they put into it," he said.

"When you ultimately get to the New York Stock Exchange, and you're standing on the podium of [what] I think [is] the most iconic financial institution in the world, seeing your company name on all the monitors, ringing the bell and there's all these people watching you … it's just amazing. It's something I'll never forget."

The company went public at $12 a share. Despite a rocky stock market of late and April's secondary offering, said to be the first significant consumer and retail equity offering of 2022 in the U.S., the company's stock was still trading above that figure, around $16, as of last week. It's one of the few 2021 IPOs in OC to still be trading above its offering price.

Next Steps

Despite all it took to complete Xponential's IPO, Meloun knows that as the CFO of a public company, he still has his work cut out for him.

"When you take a company public, people feel that's the finish line, but it's really just the starting line. Now, you have many investors and they're expecting you to deliver a return on their investment."

Meloun, echoing prior statements by Geisler, says Xponential will continue to look to add more fitness brands to its portfolio. The company acquired its 10th company, Australia-based fitness franchiser Body Fit Training, or BFT, for $44 million last October.

The company has studios in 12 countries outside the U.S., including in Canada, South Korea, Japan and Germany, according to Meloun.

As far as Xponential's next steps, Meloun said the goal is to "[make] this a global company, not just an Orange County one."
View full article here.