From infrared sauna studios to stretching labs, boutique wellness venues are finding success catering to consumers' rising interest in self-care.
The New Year is a time for fresh starts and often comes with all kinds of health and fitness resolutions. Whether you're diving into exercise for the first time or finally feeling motivated to move again after the pandemic derailed your fitness routine two years ago, it's important to ease your body into whatever type of physical activity you pursue. If you push your body too hard too soon, you may end up with injuries or burn out quickly. Hardcore activities like running and HIIT are probably not the best option for gym-goers starting at square one.

This is when low-impact workouts can be extremely beneficial. This type of workout involves movements during which one foot is always connected to the ground. That way, movement is easy on your joints, preventing wear and tear on your body.

"Low-impact workouts are great for anyone who is recovering from an injury, pregnant clients, and really anyone who is looking to build their body up for longevity," said Caley Crawford, NASM-CPT and Director of Education for Row House.

However, just because low-impact workouts are gentler on the joints and accessible for everybody doesn't mean they can't be challenging and won't improve your fitness. According to Jessica Roberts, a Master Trainer for Club Pilates the best low-impact workouts can help build strength, improve muscular endurance, lower blood pressure, reduce stress, increase range of motion, stability and balance. Beyond those benefits, most low-impact workouts can be done several times a week. That's because they build your body up without breaking it down.

If shuffling on the elliptical or swimming laps without your earbuds doesn't sound appealing, low-impact group fitness might be the answer. Try one of these low-impact group fitness classes to start your fitness journey on the right foot.

Indoor cycling
Indoor cycling on a stationary bike is one of the most high-energy and high-intensity low-impact workouts you can do. During an indoor cycling class, you are clipped into the pedals so the workout entails minimal impact on your joints.

"It's a fluid workout where the body and bike remain connected to minimize the use of bodyweight to carry the workout," said Karen Maxwell, Senior Master Instructor for CycleBar.

On a stationary bike, you can ride at a consistent pace to achieve steady-state cardio. Or, you can vary your speed and resistance to create intervals, spiking and recovering your heart rate for a low-impact HIIT workout that will leave you drenched in sweat. The resistance can be dialed up to simulate heavy hills or lightened to create the feeling of a flat road.

Compared to most low-impact exercise, indoor cycling packs a high caloric burn. It's also proven to improve heart health and build muscle tone, particularly in the legs.

If terms like "HIIT" and "high caloric burn" sound grueling, let go of that worry. Most indoor cycling classes create an immersive atmosphere with loud music and dim lighting to make you forget that you're sweating bullets.

Before discovering indoor cycling, Maxwell used to run 5 to 7 miles a day for her cardio fix.

"I noticed my knees and joints wearing down, having to ice my knees on some days," she said. "Once I discovered indoor cycling, I fell in love with the music-driven cardio sweat fest and never ran again!"

(New to indoor cycling? Here are our best tips for Peloton beginners.)

Rowing
Rowing is a full-body workout that recruits more than 85% of the body's muscles, leading to improved cardiovascular health, strength as well as posture and mobility when done correctly. Every stroke works your legs, core, arms, back, shoulders and more.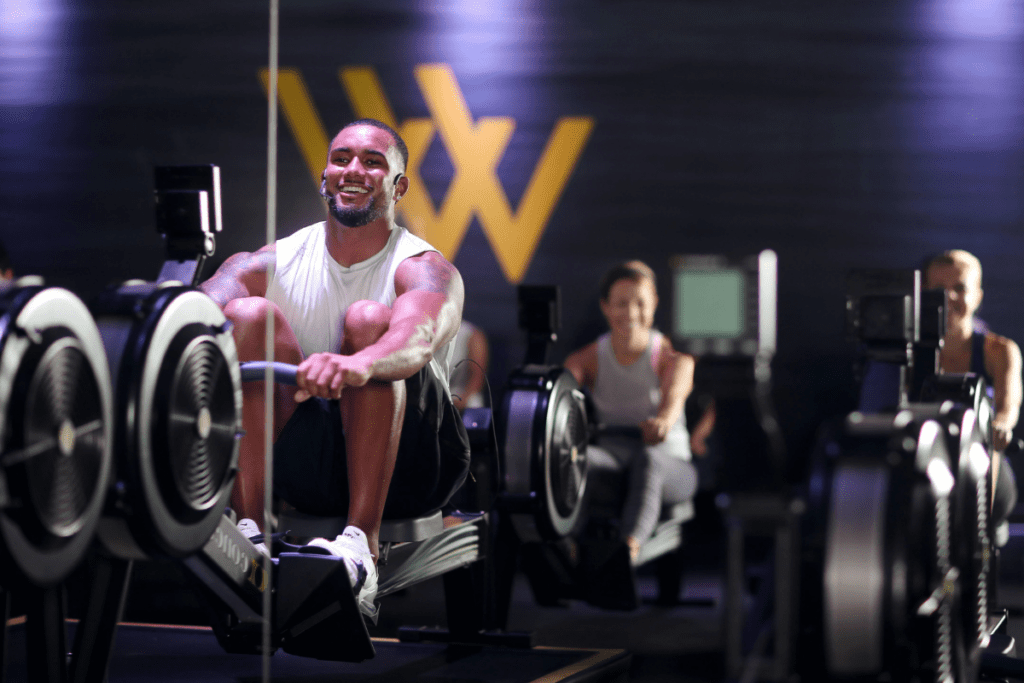 "The full-body and non-weight bearing nature of the workout differentiates it from other low impact workouts," said Crawford. "One other benefit that doesn't get talked about much is that rowing provides triple extension – knees, ankles, hips – and is the universal active position."

Until the past few years, the rower seemed to be a neglected piece of exercise equipment, left to collect dust in the corner of gyms. Thanks to boutique fitness concepts like CrossFit, OrangeTheory Fitness and Row House, that notion is changing. People are realizing how incredible the benefits of rowing can be when done properly.

"The movement pattern of rowing is the most powerful movement the human body can do," Crawford added.

There's a reason celebrities like Hugh Jackman and Kevin Hart have taken up rowing. In fact, Oprah declared Hydrow one of "Oprah's Favorite Things" in 2021!

Here's a beginner's guide to rowing to get you started.

Pilates
Created in the 1920's by physical trainer Joseph Pilates, the aptly-named Pilates is a classic low-impact workout. It can be done using specialized equipment such as the Reformer or you can keep it simple with a mat.

"Pilates is a system of exercises designed to lengthen, strengthen, and balance out the body while also being gentle on the joints and muscles," said Roberts.

A Pilates workout isn't going to skyrocket your heart rate the same way a cycling or rowing class will. However, a few key components of the practice are strengthening the core and finding ideal alignment of the body. With a focus on breathwork, Pilates also fosters the mind-body connection.

"This focused practice can help assist in other areas of your life whether you are playing sports, lifting weights, sitting at a desk all day, carrying groceries, out hiking, running, or getting ready to present in the conference room," Roberts explained.

While the workout can be done at home, beginners should consider trying Pilates in a group setting to start. The workout entails lots of controlled, precise movements that are best executed under the guidance of a certified trainer. On top of the Reformer, classes like those at Club Pilates also utilize a TRX, Springboard, EXO chairs, Bosu balls and Triggerpoint foam rollers.

Yoga
Why stay on the couch when you can "nama-stay" in shape with a yoga practice? Yoga doesn't involve any aggressive movements that put pressure on the joints and moves at a slower pace. Because of that, yoga is an ideal low-impact workout to strengthen and lengthen muscles without overexerting them. Yoga also aids in connecting breath to the body and mind. It's often described as more meditative and transcendental than other low-impact exercise.

"In our culture, yoga is primarily centered on the physical practice, or the asanas, which are the yoga postures themselves," said Tamara Teragawa, Master Trainer for YogaSix and XPRO on the Xponential+ app. "There is absolutely nothing wrong with this. In fact, that often motivates more people to try yoga, which eventually opens the door to the emotional, mental, and spiritual practice as well."

There are several different styles of yoga, from restorative slow flows to sweat-inducing power classes. Individuals are empowered to decide what they are ready for and what their intentions are. And those intentions set in class go far beyond the mat.

"No matter what format you choose, this form of exercise helps to develop a special and healthy mindset without you even realizing it all the time," said Teragawa. "It can truly be translated in every aspect of your life."

Barre
Barre is a low-impact, high-intensity workout technique with movements inspired by elements of ballet, yoga and Pilates. It's designed to strengthen and tone your physique.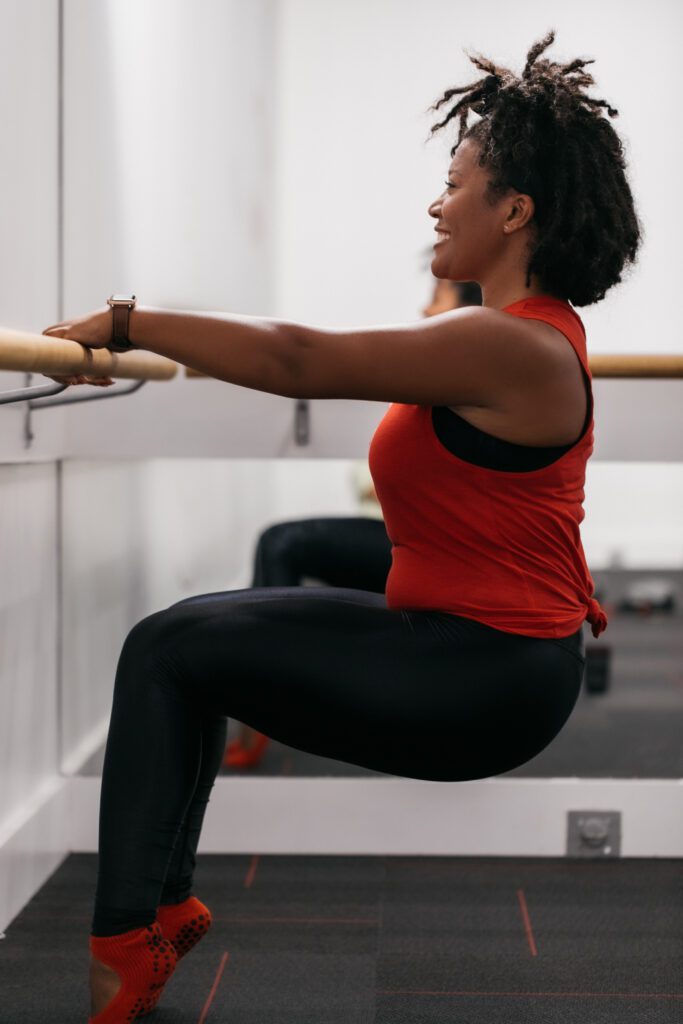 A standard barre class is broken down into sections that isolate major muscle groups including arms, thighs, glutes and core. During each section, you perform small pulses and targeted movements with light weights or resistance. The high number of repetitions bring muscles to fatigue.

"Because we incorporate active isometrics, eccentric and concentric movements, and neuromonitor training, barre can challenge your body and mind in a lot of ways," said Katelyn DiGiorgio, VP of Training and Technique for Pure Barre, the largest barre brand in North America.

According to DiGiorgio, barre can help you build strength, boost endurance, and improve balance. It can also increase your range of motion and promote better posture. To recover between each working section, most barre classes integrate stretching while the muscles are warm and pliable. Increased flexibility is another great side effect of the workout.

While barre packs similar benefits to Pilates and yoga, it's uniquely driven by music. Pulsing to a Taylor Swift or Katy Perry hit can help take your mind off of the non-stop shaking in your muscles (at least for a minute or two), before you reach complete fatigue.